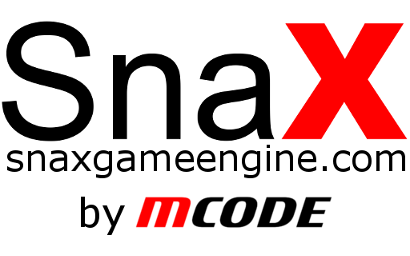 SnaX Game Engine
A downloadable 3D Game Engine for Windows
SnaX is a fast and lightweight development tool for 3D-graphics applications based on a real-time, visual programming concept. Real-time because every update you make to your program can be viewed instantly as you develop - Visual because programming happens in a graphical environment, where writing code is replaced by linking together small, precompiled blocks of functionality called Chips.
SnaX is built for Windows 10, using DirectX 12 for state-of-the-art graphics. It got a bunch of cool features including
An object-oriented programming design

Build classes and class hierarchies. Visually!
Add data members and functions. Visually!
Override and inherit. Visually!

Real-time physics simulations using Nvidia PhysX 4

Open source plugin available on Github!

Importers for many popular 3D-asset and texture formats

Including 3ds, fbx, obj, glTF and dae.

Low-level access to the graphics pipeline:

Fully user-configurable material and lighting system.
Program all shader stages using HLSL, including compute shaders.
Forward or deferred rendering: You decide!
HDR rendering and tone mapping: Up to you!
Physically Based Rendering (PBR): Yes, you can!

Fast and easy debugging

In-game Break Points.
View the current stack trace!
Step into your code, edit and continue!
Native debugging is also possible for users of the SDK.

Built-in performance profiling

Locate the bottlenecks!
Statistics are available real-time!

A C++ SDK available on Github!

Create your own Chips!
Integrate your favorite libraries!
Check out the User Manual, or the updated(!) Tutorial 1 and Tutorial 2 to get started using SnaX!
More information is available on the official web site: snaxgameengine.com.
Install instructions
Note that SnaX is for Windows 10 only.
A DirectX 12 (Feature Level 11) compatible graphics card is required.
Current Version: 1.6.0
Installer Checksum:

MD5:
7B6000909C73DD585E41EBA4721816EA